About the group
Started in April 2019, the Bozeman Cohousing group is in the early stages of forming. We are currently looking for individuals and families who would like to join us. Get involved by attending meetings or social events.  If you are interested in learning more, please join our email list on the contact page.
---
Member Profiles
Mark, Kathleen, Denali (5), and Lochlan (2)
We have lived in Bozeman for 5 years. Mark is an assistant professor at MSU. Kathleen stays home with the kids and will begin homeschooling in the fall. We are outdoor enthusiasts who are passionate about sustainability and environmental conservation. We started Bozeman Cohousing because we wanted an old-fashioned neighborhood where kids are outside playing, you don't have to cross a street or drive across town to visit friends, and we can enjoy social interaction with other adults. We are most looking forward to having a diverse multi-generational community. We think the biggest perk of cohousing will be the community dinners.
Katherine
I have lived in Bozeman for 4 years – but have been a visitor many times over the past 20 years. Currently, I am a professor of mathematics at MSU with a focus in Education. My hobbies include such Bozeman classics as skiing, hiking and going to the farmers market. I also enjoy walking other people's dogs, hip-hop (both dancing & music) and karaoke. I grew up in the inner city in Rochester, NY which provided me with an authentic neighborhood experience as a child. Prior to moving to Bozeman, I lived and worked at in international boarding school in the swiss alps that focused on community building and personal growth. (https://www.ecole.ch/en/welcome) I am excited to be part of growing a co-housing community in Bozeman.
Tim Staub, Jenn Bain, and Callum Staub (4 months)
We have lived in Bozeman since 2013. Our interest in cohousing stems from experience living at an intentional community called Holden Village in the Cascade Mountains of Washington and several years researching and visiting intentional communities. We enjoy biking, hiking, beer/kombucha brewing and cooking. Jenn has has spent her career working in the nonprofit sector and recently completed a permaculture design certificate. She is a medical Spanish interpreter and speaks un petit peu de francais aussi. Tim is a civil engineer and recently built a 20′ tiny house on wheels. We are looking forward to living in a community where our son can run around and play with other children easily and safely and have the experience of being raised by a village.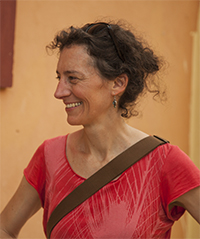 Katherine
Katherine first moved to Bozeman in her late 20s to work for a startup tech firm. She had previously spent several seasons working overseas for VISIONS Service Adventures, an international teen community service program. After a few years in tech, she did contract work for a few conservation nonprofits and earned an MBA from the University of Montana. She later became director/owner of VISIONS and moved the headquarters to Bozeman in 2010. Katherine is a native of Montana (Billings) and feels deeply rooted to the communities and landscape here. She's interested in the cohousing concept because it sounds fun, supportive and environmentally aligned with her values.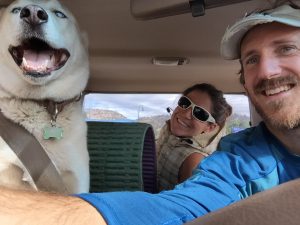 Erik and Joi
We love that in Bozeman we have access to the diverse Montana wilds, while also being able to live a walking/biking lifestyle in town. You might see us in Cooper Park with our lab/husky, Utek, who loves other dogs, people, and kids. We also might cross paths on the backcountry ski skin track, climbing crag, or bike trail. Joi gets her fix for kids working part-time at a daycare while she's in school for another year and a half earning her elementary education degree. Erik teaches architecture at MSU, and has worked designing cohousing communities and other sustainability-focused projects across the US and abroad. We plan to become parents soon and are excited to raise our child(ren) in an environment full of friends and neighbors of diverse ages and species. As adults we are excited for the relationships and support of a community of neighbors, which Erik misses from his time living in two housing cooperatives in his 20s. We can't wait to live in Bozeman Cohousing.
---
Bozeman, MT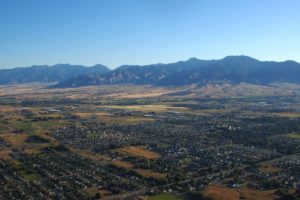 Bozeman, MT is a city with a population near 50,000 located in the Rocky Mountains. The mountains provide access to many sports including hiking, biking, climbing, and skiing. The city is home to Montana State University, art and music venues, a wide range of restaurants, and the largest airport in Montana. Bozeman is often ranked in the top places to live.