Mark, Kathleen, Denali (5), and Lochlan (2)
We have lived in Bozeman for 5 years. Mark is an assistant professor at MSU. Kathleen stays home with the kids and will begin homeschooling in the fall. We are outdoor enthusiasts who are passionate about sustainability and environmental conservation. We started Bozeman Cohousing because we wanted an old-fashioned neighborhood where kids are outside playing, you don't have to cross a street or drive across town to visit friends, and we can enjoy social interaction with other adults. We are most looking forward to having a diverse multi-generational community. We think the biggest perk of cohousing will be the community dinners.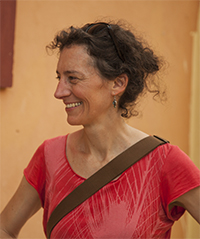 Katherine
Katherine first moved to Bozeman in her late 20s to work for a startup tech firm. She had previously spent several seasons working overseas for VISIONS Service Adventures, an international teen community service program. After a few years in tech, she did contract work for a few conservation nonprofits and earned an MBA from the University of Montana. She later became director/owner of VISIONS and moved the headquarters to Bozeman in 2010. Katherine is a native of Montana (Billings) and feels deeply rooted to the communities and landscape here. She's interested in the cohousing concept because it sounds fun, supportive and environmentally aligned with her values.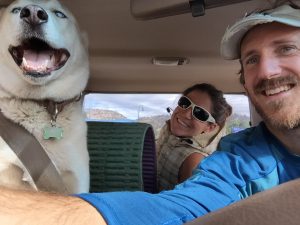 Erik and Joi
We love that in Bozeman we have access to the diverse Montana wilds, while also being able to live a walking/biking lifestyle in town. You might see us in Cooper Park with our lab/husky, Utek, who loves other dogs, people, and kids. We also might cross paths on the backcountry ski skin track, climbing crag, or bike trail. Joi gets her fix for kids working part-time at a daycare while she's in school for another year and a half earning her elementary education degree. Erik teaches architecture at MSU, and has worked designing cohousing communities and other sustainability-focused projects across the US and abroad. We plan to become parents soon and are excited to raise our child(ren) in an environment full of friends and neighbors of diverse ages and species. As adults we are excited for the relationships and support of a community of neighbors, which Erik misses from his time living in two housing cooperatives in his 20s. We can't wait to live in Bozeman Cohousing.
Eric, Carolina (care-oh-LEE-nuh), Elsie (5), and Lenora (2)
Carolina loves caring for houseplants and her family, possibly in that order. She works from home helping startup founders stay on top of their legal paperwork. Eric also works from home as a full-time stay-at-home dad. With our extended families a thousand miles away in opposite directions, work and kids fill most days and it's difficult to cultivate a strongly connected community. Carolina grew up in a multi-generational household and we spent the first two years of our marriage with a close community of friends and neighbors in Naples, Italy. These experiences added to our desire for connectedness, while our modern lives so easily lead to isolation. We're very excited to be a part of this cohousing community. It has already added so much to our daily lives, and there's so much more to come!
Chad, Megan, and Annaliese (4)
Chad and Megan both moved to Bozeman in 2003 for college. Chad is an engineer for MDT and works closely with MSU interns designing highways. He also teaches a civil engineering course at MSU as an adjunct instructor. Megan is a stay at home parent to their daughter. Together, the family enjoys being outside hiking, biking, gardening and camping. We are attracted to cohousing because we want to live in a connected, supportive and safe neighborhood. We feel that cohousing will provide rich social connections through regular community dinners, celebrations and spontaneous interactions. We are excited to live in our dream neighborhood!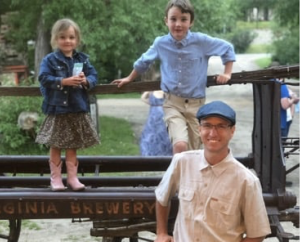 Garl, Owen (8), and Mirabella (4)
Garl was raised on a cattle ranch in the Madison Valley, went to college in Bozeman, and has lived in Bozeman lately for the past 8 years. He became interested in intentional communities about three or four years ago when reading a book series called The Ringing Cedars of Russia. "The Anastasia books changed my consciousness around how we live on this earth and interact with our community. The communities that have sprung up around Russia since the book series came out are truly inspirational. Several years ago my son and I drew pictures of our ideal community layout, and they've hung on the fridge ever since."

Garl's background is in agriculture and appreciates the growing concept of an "agrihood", where a community works together is raising food for their families and others. When he was a ranch kid growing up in rural Montana, he recalls how his grandpa shared haying equipment with his neighbors and how everyone helped out at large functions such as brandings, shipping time, 4th of July, and cattle drives. "Now everyone has their own swather, baler, stackwagon, bale feeder, etc. Nobody has to rely on their neighbors anymore, so there isn't the community dynamic. Those old ranchers helped raise me and contributed to who I am today. I would hate to have missed that growing up."

Being your average Bozemanite, Garl loves to go on adventures into the surrounding mountains and looks forward to having a closer-knit group of "adventure buddies" that comes with cohousing.

"I'm especially excited for my kids to experience the community aspect of cohousing and having the open space available to romp around in with friends, similar to how I experienced life growing up in a ranching community – only better because it's in Bozeman!"